Access Control is the management of who goes where and when. It starts with the unique access credentials issued to every person who is allowed to enter. Software defines the entrances, times and rules for entry of each credential holder, or for a group. This information is then distributed to various door, elevator and control panels for quick, dependable decision making each and every time a person requests to unlock a door.
Access Control Companies, offices and institutions benefit from Access Control through:-
Reduced losses due to walk in thieves and insecure storage of assets.
Limiting occupational health and safety risks associated with hazardous areas and/or materials.
Restricting physical access to areas of sensitive information from unauthorized persons.
Employee movement tracking useful for investigating unexpected or undesired activity.
Alarm alerts from access doors left open or forced for rapid response.
Few employers want to allow all their employees access to all facilities all of the time. That's why more and more are using electronic access control to limit employees' access to their facilities.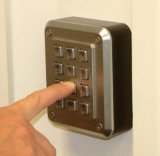 Low Level Access Control Biometric
At a minimum, an electronic access control system can be used to allow only employees into a building after hours, and provide excellent documentation of when and where employees enter and exit.
Access control is the only technology that proactively attempts to keep unauthorized individuals out of a building or areas within a facility, and is a perfect complement to video surveillance, burglar and fire systems in a comprehensive security solution.