ELECTRONIC SECURITY
Condor Security & Electrical is able to tailor an Electronic Alarm System for almost every possible application.
Home security
Two of the largest investments you're ever likely to make are your family and personal residence. Like it or not, times have changed. We recommend you thoroughly plan and install a professionally featured home security system. Your family deserves nothing less. That's where Condor Condor Security & Electrical can help. Combined with our simple-to-use alarm systems and 24hr residential monitoring service, you can be assured of absolute peace of mind with an intelligent security solution from Condor Security & Electrical. Wherever you go or whatever you do, it's comforting to know your home and family are securely protected.
Commercial Alarm Systems
Condor Security & Electrical is the security provider of choice for Australia's most recognised brands. Condor Communication & Control Systems can provide you with the right advice on the best security for your commercial premises, whether it be a small office or factory to an office building or large warehouse facility.
Integrated Alarm Systems
In this competitive age, security is of paramount concern. Condor Security & Electrical has Integrated Security Solutions which incorporate dedicated alarm and access control software solutions to offer superior performance and flexibility. Controlling and monitoring large security sites, traditionally a cumbersome and time-consuming task becomes more efficient and flexible.
Security Components and Purpose
Motion Detectors Internal and External – Most advanced security systems include passive infrared (PIR) motion detectors. These sensors "see" the infrared energy emitted by an intruder's body heat. When an intruder walks into the field of view of the detector, the sensor detects a sharp increase in infrared energy. There will always be gradual fluctuation of heat energy in an area, so PIR detectors are designed to trigger the alarm only when infrared energy levels change very rapidly.
Motion Detectors
Sirens and strobe lights – Sirens are employed both internally and externally. The external siren attracts attention from people outside the building and internal sirens emit a piercing sound designed to force an intruder to leave the building. If your alarm can be heard in other houses, there are laws regulating the amount of time it can run for – these vary from state to state.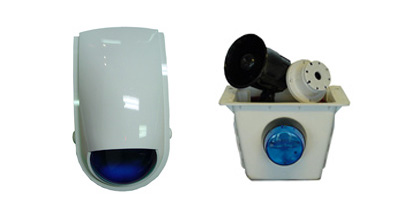 Siren Strobes
Reed switches – Reed switches use a magnetic field which can be either 'open' or 'closed'. A closed reed switch connected to a window or door alarm registers status normal. If the door or window is opened, the switch opens and trips the alarm. Reed switches can be configured to allow the window to be left partially open for ventilation.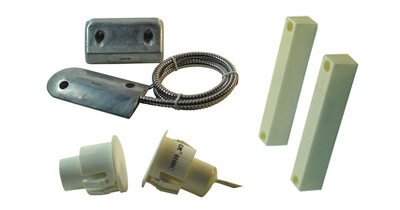 Switches
Glass break detectors – Glass break detectors are installed next to windows and detect the sound frequency of breaking glass. They are most useful in shop fronts and houses which incorporate large expanses of glass.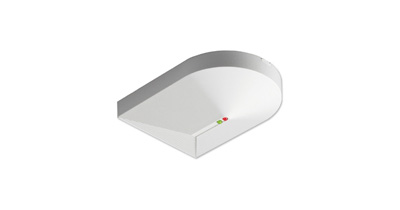 Glass Break
Duress buttons/pendants – Also known as 'panic buttons', these are a last line of defense for personal safety. They usually trigger your alarm system and are linked to the security company's base station and/or the nearest police station to elicit a rapid response.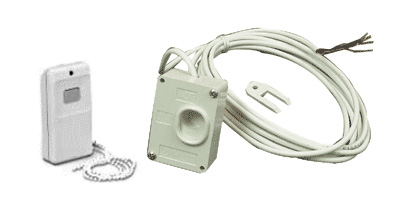 Duress Buttons
Control panels and keypads – All the components of your security system link to the control panel, which runs the system and performs periodic tests with the monitoring centre. The keypad is a push button console from which the day to day functioning of the alarm system is controlled. A PIN is entered to arm or disarm the system as you come and go. Separate users can have separate PINs, enabling you to keep track of who uses the system and when.
Wireless systems versus cabled systems
Wireless and cabled systems both have advantages and disadvantages, and your choice will be largely determined by the nature of your dwelling. Wireless systems are particularly useful for retrofitting, as installing cabling in multi-storey buildings and double brick houses is quite impractical. If your house is heritage listed a wireless system may be your only option. However, concrete walls can block wireless signals and in areas with a lot of radio frequency (RF) signals (for instance, where there are high tension power cables) a wireless system may not work at all.
Cabled systems do not suffer from these limitations and provided that there are no obstacles to installation they are definitely a good option. In some cases you can even use both cabled and wireless elements together in the same system.